Healthy Service Sanitary Score
WhatsNew:
Find a Healthy Restaurant

Coming soon, find local Healthy Service Restaurants online and a mobile app too!
Updated: January 3, 2019
[NUMO.AccOUNTS: LOGIN BOX LEFT]
Sanitary Score
Please answer the following questions to determine your Healthy Service Sanitary Score.
Dedicated Busser - 1 Point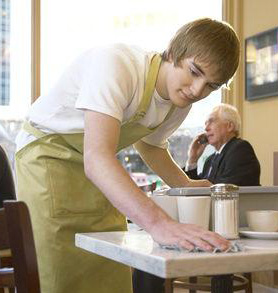 It is strongly preferred that restaurants have a dedicated busser to clear tables, that will not deliver food to tables. When a Server or Busser clears a table, they are in contact with customers' germs at a much higher rate than other employees. It requires discipline to remember to sanitize between bussing and delivering food, but it is absolutely necessary.
Our Management Handbook covers this topic and gives you great ideas on how to utilize your staff to be sure there is always a dedicated busser.
Smaller restaurants and some service models do not allow for a separate busser. In this case the restaurant must follow our busser/server training standards to be sure that the proper sanitary measures take place between bussing and serving.
Will you be able to maintain a dedicated busser?