Consumers -
Why look for Healthy Service Certified Restaurants
Healthy Service is taking an important step forward in the safety of dining out. Currently there are great standards in place to insure the food you are served is safe. Health department regulations make sure food is stored and prepared properly, but it does not address the spread of illness between staff and consumers.
Compounding this problem is the culture of the restaurant industry today.
At most restaurants: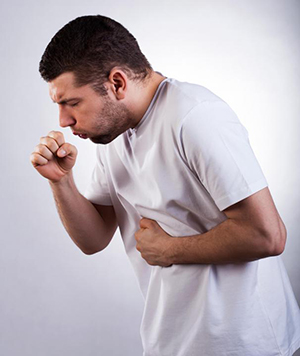 Employees are allowed to work sick

Employees are often required to work while sick

Employees use sickness as an excuse to get out of work when they are not sick

Because it is too time consuming to wash every time it is necessary, a casual attitude towards sanitation has been established

Most restaurants have outbreaks multiple times a year, with 50% or more of the staff becoming sick
There are many reasons for this culture. If you look at "The Science of Healthy Service" you will see that in the past servers would need 2.03 hours per shift to wash their hands, if they did every time they needed to. This is not possible.
In addition managers had difficulty knowing who was really sick, and who was dodging work, and less often some managers were just lazy and did not schedule properly requiring sick employees to work.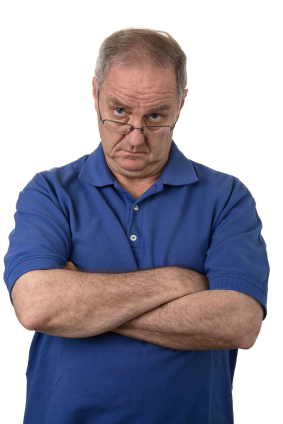 Another issue restaurants face is unforgiving customers. When a manager was faced with letting a sick employee go home, they knew they could have slower service or limited seating. They knew they would have to suffer the often brutal complaints of irrational customers, and unforgiving owners who also got these complaints. The other option was to just let the sick employee work, we know what most of us would do.
No one disagrees that it is 100% unacceptable for a restaurant to have a contagious employee come in contact with the public. It is also unacceptable for customers to visit restaurants while sick, and we ask that you consider this and do your part by staying home or getting take out when you are sick.
Healthy Service provides the training, tools and procedures that allow restaurants to run effectively and not allow sick employees to work, all while significantly increasing the sanitary standards of food service.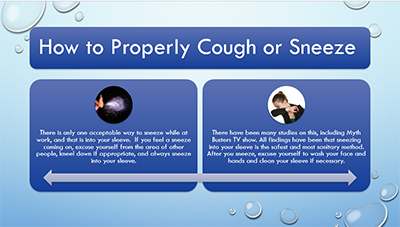 Training - Every employee at a Healthy Service Certified Restaurant takes our 1 hour Sanitary Standards Training Course, every year. This course teaches them valuable information about infectious disease, germs, transmission, and sanitary standards as well as how to know when they are sick and contagious.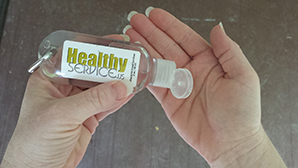 Tools - It may seem simple but simple tools can significantly reduce illness transmission at restaurants. Our table side hand sanitizer encourages customers to sanitize when sitting down and after using the bathroom (Just 5% of people wash their hands long enough to destroy infectious germs after using the bathroom) and our clip on sanitizer for servers and bussers allow them to sanitize on the fly.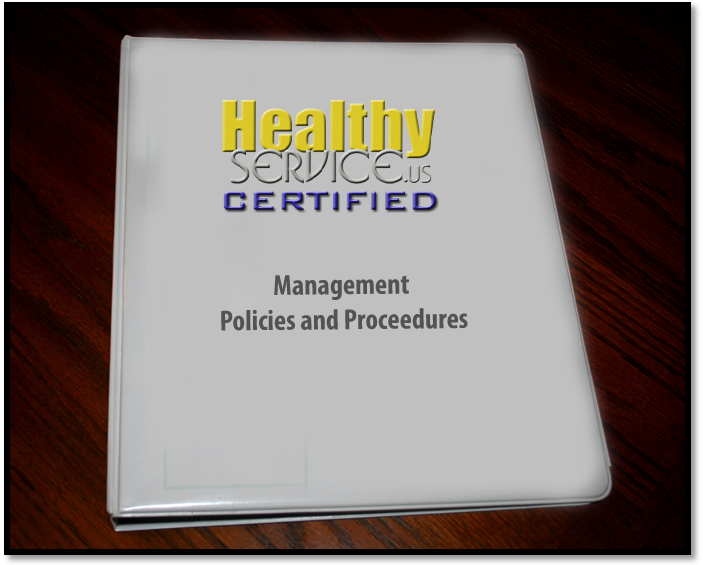 Procedures - Healthy Service teaches many procedures to restaurants to reduce germ transmission. The one that is easiest to relate to is the wiping down of condiments, salt and pepper shakers, ketchup and sauces, etc. between customers. This eliminates direct customer to customer germ transmission.
The inevitable outbreak. Sooner or later there will be an outbreak more serious than the annual flu season. When this occurs, Healthy Service Restaurants will be prepared and a safe place to dine.
Healthy Service Certified Restaurants are doing their part and showing their communities they care.
You can do your part too:
Do not visit any restaurant while sick.

Recommend your favorite become Healthy Service Certified.

Leave feedback for any Healthy Service Restaurant, positive, as well as negative.

Practice healthy policies to reduce the spread of illness among your friends and family.
Look for the score! Healthy Service Certified Restaurants are required to display their certificate with their Health Department Score.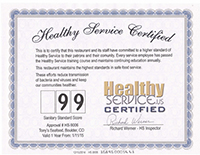 95 - The restaurant maintains basic Healthy Service Standards
96 - The restaurant maintains basic Healthy Service Standards, plus 1 additional standard
97 - The restaurant maintains basic Healthy Service Standards, plus 2 additional standards
98 - The restaurant maintains basic Healthy Service Standards, plus 3 additional standards
99 - The restaurant maintains basic Healthy Service Standards, plus 4 additional standards
100 - The restaurant maintains basic Healthy Service Standards, plus ALL additional standards
Additional Standards:
Dedicated Busser - 1 Point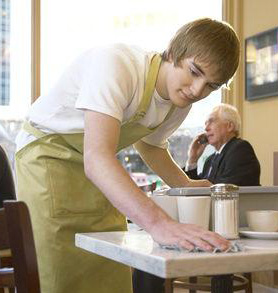 It is strongly preferred that restaurants have a dedicated busser to clear tables, that will not deliver food to tables. When a Server or Busser clears a table, they are in contact with customers' germs at a much higher rate than other employees. It requires discipline to remember to sanitize between bussing and delivering food, but it is absolutely necessary.
Our Management Handbook covers this topic and gives you great ideas on how to utilize your staff to be sure there is always a dedicated busser.
Smaller restaurants and some service models do not allow for a separate busser. In this case the restaurant must follow our busser/server training standards to be sure that the proper sanitary measures take place between bussing and serving.
Table Side Hand Sanitizer - 1 Point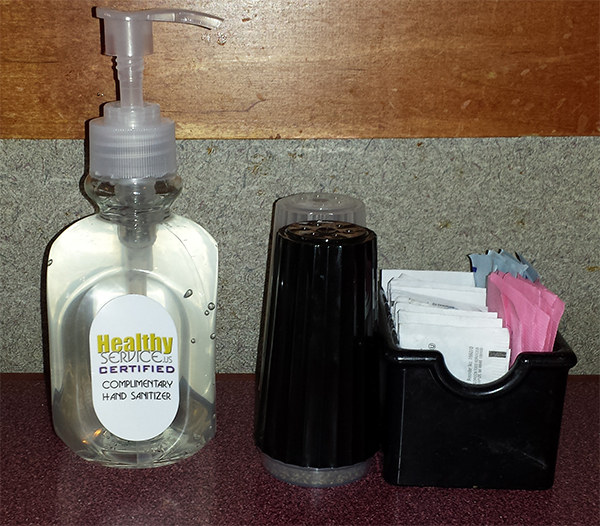 It is STRONGLY recommended that Hand Sanitizer must be made available to diners table side and it is required that it is available to staff at wait stations.
By allowing customers access to hand sanitizer the transmission of colds and disease can be greatly reduced. Hand sanitizer is an ideal product as it offers a quick and easy sanitary solution for both consumers and staff.
(Please note: Our hand sanitizer bottles are designed to be unique and attractive, and convey the Healthy Service Certified message. For fine dining, we also have an elegant bottle available. Read more here)
Server Clip On Hand Sanitizer - 1 Point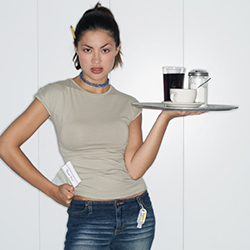 Don't forget the clip on personal hand sanitizer for your service staff! We all know there is no way the staff is going to stop what they are doing and go wash their hands for 20 seconds every time they should. But when you give them the tools and the training, and you will see a huge difference in sanitary behavior.
Disposable Wipes - 1 Point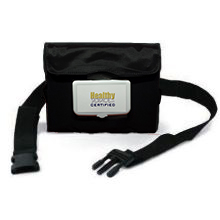 Most of us can agree the white cotton rag is questionable at best. Going from table to table it can spreads germs, and leave a wet unattractive surface behind. It is also very difficult to wipe condiments and menus with the white rag.
These pre-moistened professional brand Table Wipes are the quick, easy-to-use alternative to cotton rags that get re-used table to table. These wipes allow you to eliminate unsightly dirty towels from your front-of-house operations. Staff love using these wipes, and they are great for wiping down condiments as well as all other dining surfaces
Condiment Sanitizer Cabinet - 1 Point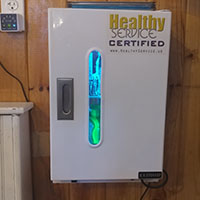 Condiments have been a source of germs spreading in restaurants for as long as they have been used.
Attempts to wipe them down are good, but not good enough. Healthy Service offers Sanitizing Cabinets that use Ultraviolet Light and Ozone to completely sanitize the condiments making them safe for use.
We recommend sanitizing condiments between customers.
No sick employees on premises - Ever - Mandetory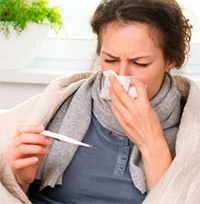 Very few restaurants do not allow sick employees to work. Most restaurants knowingly allow sick employees to work. Everyone we have talked to agrees this needs to stop.
Restaurant must comply with the Healthy Service Sick Employee guidelines, however we encourage all to take it a step further and
1) Test questionable employees for fever
2) Send employees home when they show signs of sickness
3) Do not allow sick employees on premises.
Our Healthy Service Management Handbook provides advice, tools and policies to make this a simple and easily implemented reality. It is not as hard as you think to implement this policy, but it should not matter how hard it is, sick employees should never be allowed to serve the public.